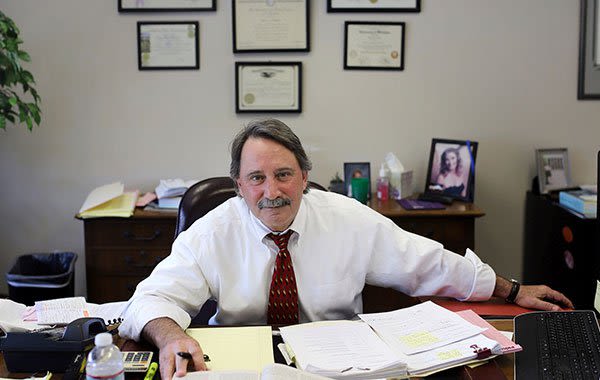 I always knew I wanted to be a lawyer
I think it was because my Dad was a lawyer and everyone - my friends, their parents, my teachers and team mates, all immediately respected and admired him. That made it an easy path to follow. There is something about being able to help people in their time of need that just feels right.
I grew up in Tulsa, graduated from Edison High School in 1975 and started college at Northeastern State University in Tahlequah where I lived on the family cattle ranch. I was a student three days a week and a cowboy for four. I was in hog heaven! I've always enjoyed the great outdoors and try to get back to the ranch, the lake, a beach or the mountains whenever I get a chance. I finished at Oklahoma University and graduated in 1979 with a Bachelor of Business Administration Degree. Law School was next and I received my Juris Doctor Degree at Tulsa University in 1982.
While in law school I worked at the Tulsa County Courthouse for the Court Clerk and Court Administrator. I was able to spend a great deal of time in the courtroom watching how good lawyers served their clients and how they interacted with each of them, the Judges and their staff. I saw a lot of bad lawyers too and quickly learned there are trial lawyers that are fearless, those which are not, and which one I wanted to be.
I finished law school while working at the Public Defender's Office. It seems I spent every day either in court or in jail, where all of my clients were. You don't get that kind of experience just anywhere. While at NSU I met my future wife, Debbie and we have been together over forty years now. Our daughter, Rachel, is now practicing law with me. Our son, Eric is an Air Quality Control Specialist for a national remediation firm. I've been in private practice now for nearly thirty five years. I was only able to practice with my Dad for four of those years, but it was a time I cherished as much as my days on the ranch. What I learned from him in that time was invaluable and is something I try every day to pass on to Rachel, who has been with me at the firm since 2014.
I enjoy trial work, but clients for the most part prefer their case settle quickly and fairly, which is easier to accomplish if the insurance company knows I will take them to court before accepting anything less. Not every case is what you would call "BIG", but they are all important. While I may have many cases, the client usually has just one and it is "BIG" to them.
I take pride in what I do and can't imagine ever doing anything else. When someone comes to me after an insurance company has "done them wrong", I want them to know that I can even the playing field for them.
Call me when the insurance company says 'NO' --I'll grade their papers with a sharp pencil!
I have three rules I share with new clients:
From now on you relax; I have your back,

The only stupid question is the one you don't ask,

I return every call every day.