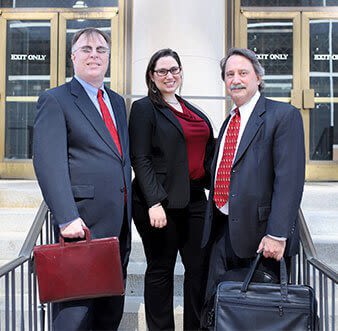 The Founding of Our Green Country Law Firm
Farrar & Farrar, P.C. has been serving Tulsa and the surrounding areas since 1979. It all began when George Farrar, Sr. (1927-1986) decided to establish a firm where he and his sons could work alongside one another. George continued working with his sons until he passed away in 1986.
Today, the firm consists of George's son, Greg Farrar; Greg's daughter, Rachel Farrar; and our trusted Of Counsel attorney, Eric Quandt. Since Rachel joined the practice in 2014, Farrar & Farrar, P.C. has now been serving the Tulsa community for three generations.
One of the greatest advantages of working with our firm is the fact that you get three legal minds for the price of one. You see, between our three attorneys — Greg, Rachel, and Eric — you've got a former workers' compensation judge, a former public defender, and more than three decades of experience successfully resolving cases throughout Northern Oklahoma.
This means that whether you come to us for help with an insurance dispute, workers' comp claim, or criminal charge, you're going to get a skilled, experienced attorney in that area of law.
Ever-Changing, but Never Digressing
As our firm has evolved over the years, we have never lost sight of what's truly important. Our first priority is still our client's well-being — not their wallets. In fact, every decision we make and every piece of advice we give is based explicitly on the needs of the person or family in question.
Although each of us has our own unique background in law, we share a strong sense of right from wrong, and we pride ourselves on finding solutions where our clients see dead ends. As we look to the future of our firm, we know that these are the qualities that will never fade from Farrar & Farrar, P.C.
Each member of our team brings something different to the table, but there is one thing we all have in common: we don't back down.-Greg Farrar
DIVERSE LEGAL KNOWLEDGE
As we've said, we have an extremely vivid understanding of Oklahoma law as it pertains to personal injury, family law, workers' comp, disability claims, insurance disputes, and criminal defense. Even better — we know how to get results in these areas of law.
STRONG MORAL PRINCIPLES
Our rules are pretty simple. If you have a question, we'll give you a clear answer. If you have unrealistic expectations about your case, we're going to explain the reality of your situation. And if you don't need a lawyer, we're not going to take your money.
APPROACHABLE ATTORNEYS
People tend to think of lawyers as rigid, unapproachable people, but that's the exact opposite of the atmosphere you'll find when you visit our office. We're professional yet laid back, tough but kind. But don't just take our word for it — come see for yourself.
Community Involvement
Outside the office, we are committed to making Oklahoma a better place for everyone. That's why we volunteer at local events like the statewide Mock Trial Championship, the Tulsa Expungement Expo, the Day Center for the Homeless, and several school-centric events.
In addition, we are proud to be members of the Oklahoma Association of Justice, Feed the Family on Thanksgiving, the Ethics Community of the Tulsa County Bar Association, and multiple workers' compensation groups.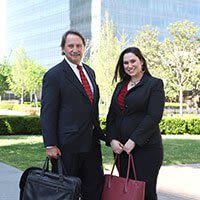 A Local Firm Looking Out for You
When George Farrar, Sr. set out to establish Farrar & Farrar, P.C., he turned his vision of a client-centered family firm into a reality. Today, that firm continues to serve many of the same families it did when it first opened its doors. If, like us, you live in or near the Tulsa area, know that you can count on us to offer high-quality, dependable legal counsel. To get started on your case, we encourage you to explore the services we offer.